Overview
Surgeries for LLD are designed to do one of three general things ? shorten the long leg, stop or slow the growth of the longer or more rapidly growing leg, or lengthen the short leg. Stopping the growth of the longer leg is the most commonly utilized of the three approaches and involves an operation known as an epiphysiodesis , in which the growth plate of either the lower femur or upper
tibia
is visualized in the operating room using fluoroscopy (a type of real-time radiographic imaging) and ablated , which involves drilling into the region several times, such that the tissue is no longer capable of bone growth. Because the epiphyseal growth capabilities cannot be restored following the surgery, proper timing is crucial. Usually the operation is planned for the last 2 to 3 years of growth and has excellent results, with children leaving the hospital within a few days with good mobility. However, it is only appropriate for LLD of under 5cm.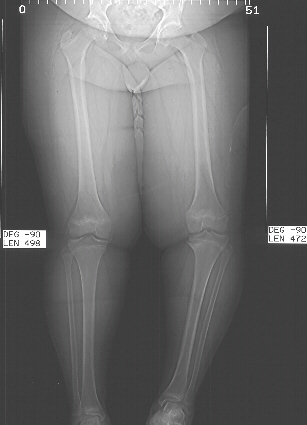 Causes
Leg discrepancy can develop from a medical issue in any portion of the femur or
tibia
. One leg may lengthen, but leg shortening is much more common. Factors that can cause leg length discrepancy include inherited growth deficiencies. Infections. A bone infection can cause delayed growth in the affected limb. Injury. If your child breaks a leg, it may be shorter once it heals. This is most likely to happen if the fracture or break was complicated, an open fracture, or an injury that affected the growth plate near the end of the bone. Alternatively, a break can cause
bones
to grow faster after healing, making a leg longer. Tumors. Legg-Calve-Perthes disease. This is a condition that affects the ball (femoral head) of the hip joint. The femoral head may be friable and damage easily, sometimes leading to shortening of the thigh bone. Hemihypertrophy. In children with this condition, one side of the body grows more quickly than the other. Vascular malformations. These are abnormal clusters of veins and arteries that can form close to the bone and stimulate growth. Juvenile arthritis. Inflammation from arthritis can stimulate growth in the affected leg and cause discrepancy.
Symptoms
The effects of a short leg depend upon the individual and the extent of discrepancy. The most common manifestation if a lateral deviation of the lumbar spine toward the short side with compensatory curves up the spine that can extend into the neck and even impacts the TMJ. Studies have shown that anterior and posterior curve abnormalities also can result.
Diagnosis
On standing examination one iliac crest may be higher/lower than the other. However a physiotherapist, osteopath or chiropractor will examine the LLD in prone or supine position and measure it, confirming the diagnosis of structural (or functional) LLD. The LLD should be measured using
bony
fixed points.
X-Ray
should be taken in a standing position. The osteopath, physiotherapist or chiropractor will look at femoral head & acetabulum,
knee
joints, ankle joints.
Non Surgical Treatment
To begin a path torwards a balanced foundation and reduce pain from leg length discrepancy, ask your doctor about these Functional Orthotics and procedures. Functional Orthotics have been shown to specifically reduce pain from leg length inequality, support all three arches of the foot to create a balanced foundation, maximize shock absorption, add extra propulsion, and supply more stability, enable posture correction and long-term preventive protection. Will
improve
prolonged effectiveness of chiropractic adjustments. Shoe or heel Lifts, Correct the deficiencies that causes imbalances in the body.
what shoes make you taller
Surgical Treatment
Surgeries to lengthen a leg are generally only performed when there is a difference in leg length of greater than four centimeters. These types of surgeries can be more difficult and have more complications, such as infections, delayed healing, dislocations, and high blood pressure. In a several step process, bone lengthening surgeries involve cutting a bone in two in order to allow new bone growth to occur. After the bone is cut, a special apparatus is worn with pins that will pull the bone apart at approximately one millimeter per day. This causes osteogenesis, or new bone growth, in between the cut bone segments. A cast or brace may be required for several months after surgery to allow the new bone growth to harden and provide extra support.